Video is the ideal medium to showcase your talent, build excitement for your event, promote your cause, or preserve precious memories. It'll do the work of a thousand photos, and YouTube is the perfect outlet for the job. Get found online by learning how to get started with video and building a presence on the number two search engine for free.
Small and intimate setting with lots of individual attention.
Uncover show ideas from the work you do every day.
Explore recording equipment and software for creating and editing video.
Discover simple techniques for planning and organizing each project upfront.
Learn where to promote videos that will help build traffic to your sites.
Use PowerPoint to create all the graphics you'll need (the flyer below was created in PowerPoint!).
Explore features in YouTube that build interactivity and your brand including annotations, playlists, and social media connections.
Agenda
We'll take breaks as needed.
9.00AM-9:30AM, Arrive and set up
9.30AM-10.00AM, Review, Getting Started with Videos (A Webinar on this topic will occur before the training. You'll be able to attend live at a date TBD).
Or watch the recording at your convenience.)
10.00AM-12.30PM, Using PowerPoint to Create Graphics and Animation for Videos
12.30PM-1.15PM, Lunch and Discussion
1.15PM-2.15PM, Editing Videos – Demo only
2.15PM-6.00PM, Build Your YouTube Channel
EARN $$CASH BY PROMOTING THIS TRAINING
Join our Affiliate Program and use your coded link to send to your connections. When they click your link and register, you'll receive $25.00 within 5 days after the training. Thank you!
Click this link to join or p://www.eventbrite.com/affiliate-register?eid=4415456750&affid=20328068
What You Will Need
An Internet-ready laptop with PowerPoint loaded. If you want to create a video using PowerPoint, you'll need version 2010. Otherwise, any version will work.
Don't forget your cord, external mouse, and mouse pad.
Two or three videos that are 2-10 minutes long saved on your computer or accessible online (Google Drive, Dropbox, etc.). You'll learn ways to do this during the Webinar prior to the training. You should hold the full copyright to the videos.
If you're not able to record videos prior to coming to this bootcamp, we'll do so during the breaks.
Ability to be away from your cell phone. We'll take breaks so you can check messages and email.
Administrivia

Refunds are given if you cancel your registration at least ten (10) working days before start date (minus a 25% administration fee). After that, you may send someone in your place, but you must let us know in advance. You will not be able to use payment for a future class because no-shows cost us a seat. We must do this to keep this training affordable.
This is an adult event (or mature teens). No exceptions. Please do not cause any embarrassment for either party and adhere to this policy.
Recording of any kind is prohibited. Sessions in this training will be recorded for your future viewing.
Dress is business or business casual, whichever is more comfortable for you. You'll want to look your best for recording.
The event will be videotaped. Your registering for this event gives us permission to use your image.
The event is fragrance-free, please.
Travel

T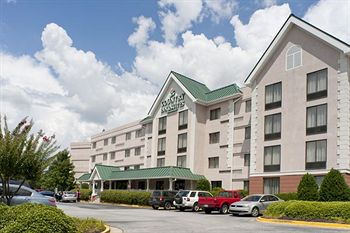 he Country Inn & Suites is about 7 minutes from the Atlanta International Airport (ATL). Offering free airport shuttle, WiFi, free parking, free breakfast, and a whole lot more. No pets allowed.
Free airport shuttle runs 24 hours/day every 30 minutes. You'll go to Ground Transportation on the Domestic/North Terminal side.
Attendees are responsible for making their own travel accommodations.
Country Inn & Suites by Carlson
5100 West Fayetteville Road
(former address lists Phoenix Blvd)
College Park (Atlanta) GA 30349
(770) 991-1099
Room Rates in $70 per night range
Newly renovated and under new management
Driving from airport or from downtown Atlanta. 85 South to 285, then 285 East. Exit Riverdale Road, right turn (do not take Riverdale Road on 85). Immediate right at the light onto Phoenix Blvd. Approximately 1 mile to stop light (past Phoenix Pointe), right turn onto West Fayetteville Road and pass Shorter University. You'll be on it before you see the sign so as soon as you see what looks like a driveway, turn right into the hotel. Free parking.
MARTA RAIL/BUS. You can ride MARTA to the airport and catch the free Country Inn & Suites shuttle. The shuttle runs every 30 minutes, 24 hours/day. You'll go to Ground Transportation on the Domestic/North Terminal side.
Your Trainer
Peggy Duncan is a personal productivity expert and the founder of The Digital Breakthroughs Institute, a productivity and technology training center in Atlanta, Georgia. She travels internationally helping busy people spend less time working but get more done.
She is the author of Conquer Email Overload with Outlook 2007; The Time Management Memory Jogger™; Just Show Me Which Button to Click! in PowerPoint 2007. Booklets include: Shameless Self-Promotion: Do-It-Yourself SEO; Get Organized At Work and Make It Easy; Computer Magic in Word 2007; and Up to Speed on Your BlackBerry.
Peggy has appeared on NPR, CNN, TODAY, Black Enterprise Business Report, the US Virgin Islands PBS affiliate, and Good Day Atlanta. Her expertise has been cited in Fortune Small Business, O-The Oprah Magazine, Real Simple, Essence, Fitness, Self, Men's Health, Black Enterprise, Entrepreneur, the New York Times, the Washington Post, the Wall Street Journal, and a whole lot more. She was formally trained at IBM where she was recognized by the chairman for streamlining processes that saved the company close to a million dollars a year.
Peggy's YouTube Channel
http://YouTube.com/user/digitalbreakthroughs. Check out our how-to computer videos.