Testimonial from Recent Event
"Get Organized" was a fantastic seminar. To be honest, I thought you were going
to share very little of your expertise while trying to sell us
something. Instead, you went on and on, offering tips, delivering insights.
My office is now a different space and results are already showing in concrete manners.
Thank you so much!"
Karina Hatcher, Marketing & PR Specialist
Magnum Group, Inc.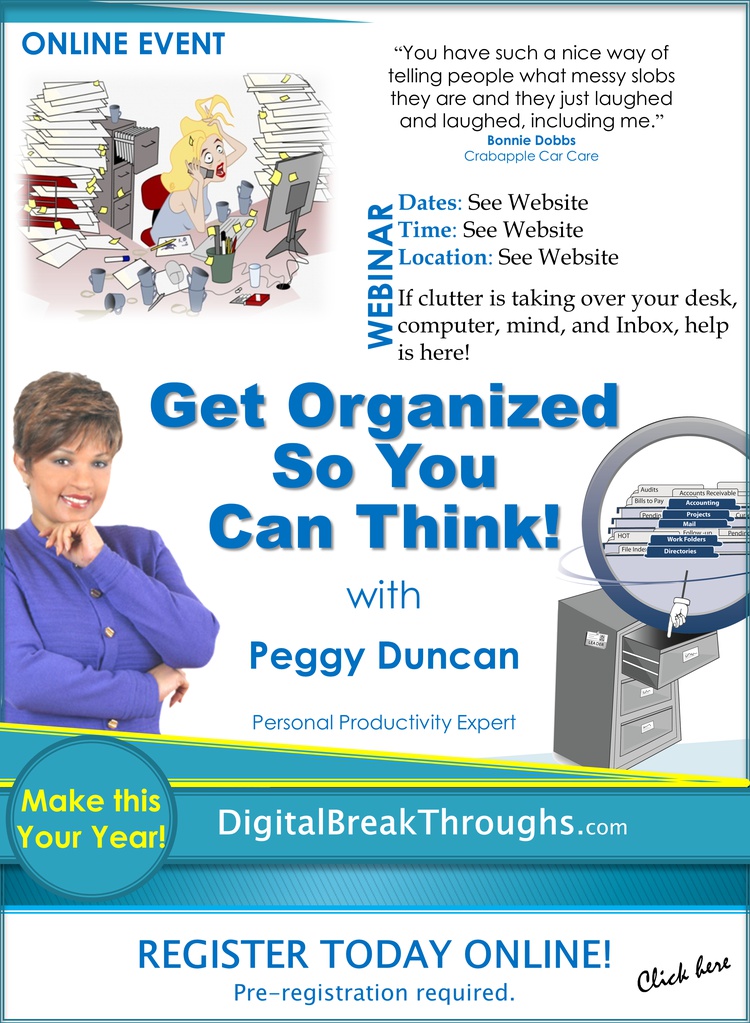 Is this training for you?
Are you feeling overwhelmed as soon as you walk into your office?
Are you stressed out and always wondering what you forgot?
Do you find yourself apologizing too much for commitment fails?
Are you beginning to feel incompetent because you can't focus or keep up?
Are you embarrassed when you're late and not pulled together?
Do you jump from one project to the next without finishing anything?
Are you digging through piles and finding more work that's past due?
Do you feel guilty about not spending enough time with people or things you love?
Do you need more time just to think?
Yes? Then getting organized is your answer! Sign up for this training right now! And unlike dieting or exercising, the results of making these changes are immediate!
If your workload lasts well beyond the workday, getting organized will help. You can easily save one to two hours a day just by clearing clutter from your desk, mind, computer, and Inbox. It's not hard. You just have to make the commitment to start, finish, and maintain. And unlike dieting or exercising, the results are immediate.
What You'll Learn
The main takeaway is how to create a logical filing system.
Regardless of where you store your files, they need to be organized for easy access. You'll need a logical system so you (or anyone else) can find what you need the instant you need it.
Eliminate clutter one pile at a time.
Distinguish between things to keep and things to trash.
Create a system for files on your desk, computer, online, and Inbox.
Beat deadlines every time with external cues that help you remember.
What You'll Need
Fast Internet access.
A computer with audio and Adobe Flash. Or connect directly from an Apple(R) iPad, iPhone, and iPod Touch.
Latest version of Adobe Flash.
Links
We'll email you the link to use the morning of the training. Be sure to check your junk email folder.
Recording
This Webinar will be recorded and available to watch online at your convenience. Please allow 2-3 days to receive the email notice.
Affiliates – Promote This Training and Earn Cash!

We've established an affiliate program for this series. Join the program and promote it using your custom link. Every time someone clicks your link and registers, you'll earn $10 once the event is over.
Put the link on your Website, blog, email signature, social sites. Send an email blast using the logo image above. Simply right-click on it, and Save image as. If you need to know how to hyperlink an image, check out this how-to video.

Your Expert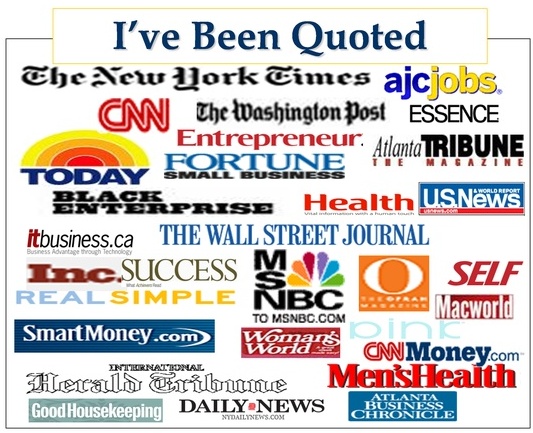 Peggy Duncan travels internationally speaking to audiences on organization, time management, and technology. She's the author of several books (Conquer Email Overload with Better Habits, Etiquette, and Outlook 2007; The Time Management Memory Jogger™; Just Show Me Which Button to Click! in PowerPoint 2007. Booklets include: Shameless Self-Promotion: Do-It-Yourself SEO; Computer Magic in Word 2007; Get Organized At Work and Make It Easy; and Create, Build, and Manage a YouTube Channel Made Easy).
The Durham native was formally trained at IBM and was recognized by the chairman for streamlining processes that saved the company close to a million dollars a year.
Peggy has appeared on NPR, CNN, TODAY, Black Enterprise Business Report, and the US Virgin Islands PBS affiliate. She's been quoted in Fortune Small Business, Entrepreneur, SUCCESS, Real Simple, Ladies Home Journal, O-The Oprah Magazine, Black Enterprise, ESSENCE, Health, Men's Health, The New York Times, The Wall Street Journal, Friday (Dubai), USA Today, and many more.
Peggy received her B.S. degree (Marketing) and a train the train certification from Georgia State University in Atlanta. Visit her Website at www.PeggyDuncan.com.
Reminders
Recording of any kind is prohibited.
You'll receive a link to the Webinar the morning of the event. Check your junk email folder.
.
.